Masažni stol inSPORTline Numana
Experience the same well-being at home as in a professional massage salon! With this chair you can use preset programs, back heating and ionizer to freshen the air!
Priporočamo nakup
Opis
Parametri
Možnosti (2)
Masažni stol inSPORTline Numana
Are you looking for a way to really relax your body after a hard day's work or strenuous training? With the inSPORTline Numana massage chair, you will relax your body and mind, so that in the end you will feel reborn! With 8 preset programs and 5 massage speeds, you can easily find a mode for every occasion. But if you still want something special, you can set up and save 2 programs of your own . Another great feature is the air ionizer to refresh the surrounding air during the massage!

For an even better experience, you have 3 levels of back heating , sophisticated positioning of the 135 cm long massage area and an adjustable footrest. In addition to the classic controller, you can also regulate the massage by voice - according to the list of English phrases, which you will find in the manual, you will be able to set the parameters of the massage even with your eyes closed! Add to that Bluetooth speakers that can be paired with a mobile phone or tablet and a charging USB port , and you get the perfect set for absolute relaxation.


Air ionization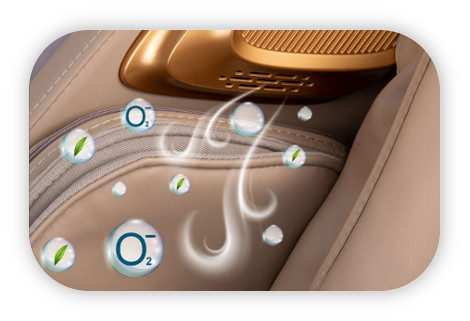 The air ionizer generates negative ions , which purify the air by withdrawing harmful substances and microparticles. This will make your breathing better during the massage and, in addition, the newly cleaned air will pleasantly refresh you!


Zero Space & Gravity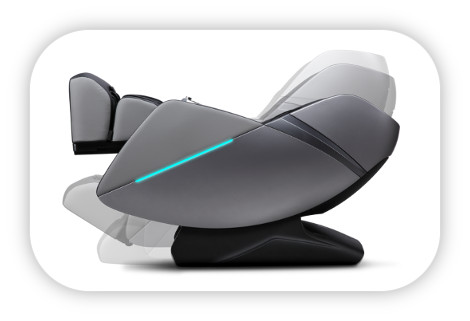 With the Zero Space program, you don't have to think about how much the chair tilts back during the massage - it doesn't tilt, it just slides forward and you don't have to manipulate it in any complicated way. Just place the chair at least 5 cm from the wall and that's it!
With the Zero Gravity function, you can switch to the so-called " weightlessness " position with a single button, where your weight is distributed so as to relieve your spine as much as possible from the influence of gravity. This will reduce the pressure exerted on the heart, expand the capacity of the lungs and support the blood circulation of the legs.


Pleasant back warming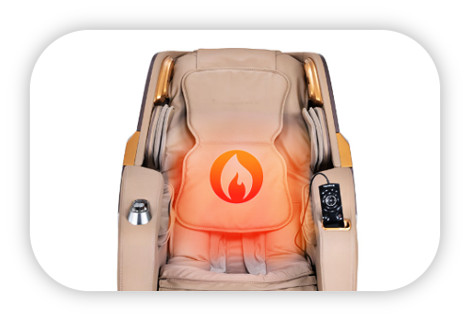 The back is heated by long-wave infrared radiation , which penetrates deep into the muscles. At the maximum, the backrest temperature reaches 40 ° C - 50 ° C , which is optimal for perfect warming up and pain relief. Warm-up massage is more effective and pleasant, and it can also be used to quickly restore heat in the event of a cold!


Invigorating air massage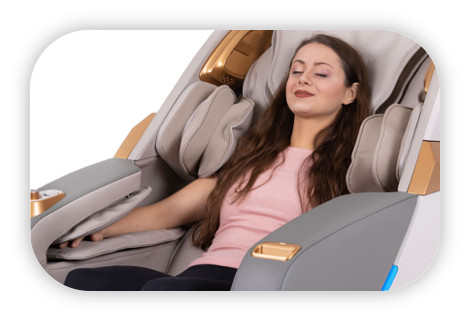 The set of 40 air cushions in the area of the arms, hips and legs perfectly adapts to the shape of your body and provides you with a thorough massage that will beautifully relax and move you even after a hard day. This balanced pressure massage relaxes and revitalizes the muscles and in the end you will really feel reborn!


Voice control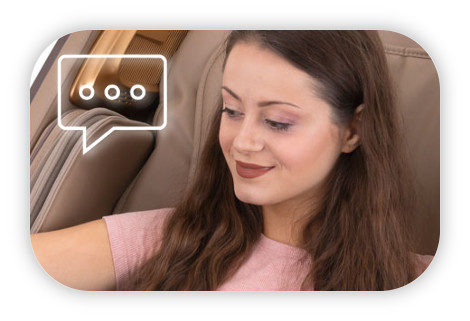 The unique function of this chair is that you can also control it by voice ! If you don't want to reach for the remote control, just press the microphone button and start with "Hi, Alice" . Then the chair will respond to the preset phrases (you will find them in the user manual). The catch is that they are in English, but on the other hand you can practice your language skills.


Bluetooth speakers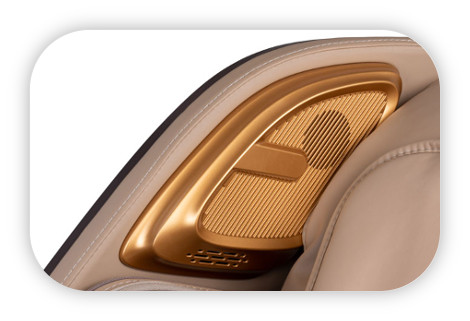 Listening to music is another interactive way of therapy, thanks to which you will gain inner peace and well-being. The combination of music and massage will charge you with an influx of new, positive energy. You can connect the chair to your mobile phone or other smart device and turn on your favorite music.

Programs and features:
5 types of massage using massage heads (kneading, tapping, simultaneous kneading and tapping, Shiatsu massage)
8 preset programs (quick full body massage, comfortable full body massage, relaxing full body massage, stretching the waist, back and legs, deep full body massage, convalescent massage to relax the body, neck and shoulder massage, back and lumbar massage)
5 manual programs (focused, local, whole back area, upper back, lumbar area)
2 air massage modes (air massage of the upper limbs, air massage of the lower limbs)
carbon fiber back heating (40 ° C-50 ° C)
3 levels of massage intensity adjustment (air)
5 levels of massage speed setting (basic only)
Pause function - pauses the current massage and allows you to move away from the chair
Zero Gravity feature
Zero Space feature
ionization - an ionization device that generates negatively charged ions to remove harmful particles from the air; the air you then breathe is cleaner and noticeably fresh
memory for 2 custom massage modes
automatic seat detection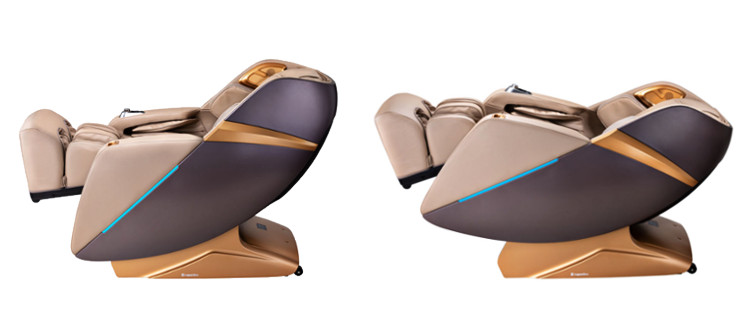 Technical description:
massage chair with ionization device, back heating and a wide selection of functions
anatomical curvature of the backrest and seat with a massage area of 135 cm
foot position adjustment
backrest position adjustment
adjustable headrest - the pillow can be folded or unbuckled from the chair and thus regulate the intensity of the massage
armrest adjustment
high-quality synthetic leather forms a firm and non-slip surface that resists friction and impact
back heating (40-50 ° C)
40 massage airbags
voice control (English only)
driver with LCD display
Bluetooth headphones
wheels for easy transport
USB port for charging smart devices
power: 150 W
dimensions after assembly: length 140 cm x width 82 cm x height 115 cm
package dimensions: 2 boxes, 1x 152 x 77 x 93 cm, 1x 129 x 40 x 90 cm
maximum chair length during massage: 190 cm
seat width: 50 cm
materials: synthetic leather (polyurethane)
load: 150 kg
weight: 120 kg
The device is not intended for the treatment of muscle and other diseases - it is not a medical device
Massage chair is not suitable for people with electronic implants (pacemaker), people suffering from osteoporosis or skin diseases and pregnant women
Masažni stol inSPORTline Numana - Parametri izdelka
Material
Sintetično usnje
Število masažnih blazin
40 ks
Število masažnih ventilov
11 ks
Število prednastavljenih programov
U některých křesel lsi ze zvolit z již předem nastavených zabudovaných programů. Tyto programy jsou speciálně nastavené přímo pro aktuální potřeby uživatele. Z výběru je například program r
elaxační, ulevující, fitness, mírný či aktivní, ale tyto programy se můžou lišit křeslo od křesla.
8
Število masažnih stopenj
5
Število hitrosti masiranja
5
Vyhřívaná podložka
Takováto křesla mají vyhřívání zajištěno infračerveným zářením, které poskytuje teplo a působí na uživatele jako termální terapie. Infračervené částice zlepšují prokrvení, což efektivně uvolňuje napětí ve svalech. Teplotu vyhřívání je možno si nastavit přesně podle potřeby.
da
Vyhřívání nohou
Vyhřívání nohou je zajištěno infračerveným zářením, které působí jako termální terapie. Infračervené částice zlepšují krevní oběh, což efektivně uvolňuje napětí ve svalech. K vyhřívání je použito karbonové vlákno, díky čemuž je možné teplotu regulovat.
ne
Maximalna teža (kg)
150 kg
Računalniški spomin
Nekateri modeli masažnih stolov imajo možnost, da shranite prejšnje nastavitve stola, ali položaj zračne blazine, vrste masaže ali programe. Ko nastavitve shranite, lahko uživate v svoji najljubši masaži brez prilagajanja. Ta parameter določa, koliko možnosti prednastavitev lahko shranite v spomin.
2
USB priključek za MP3
Z USB vhodom za MP3, se lahko sprostite v masažnem stolu skupaj s poslušanjem vaših najljubših pesmi.
da
Masažni stol inSPORTline Numana - možnosti -
vse na zalogi
Masažni stol inSPORTline Carlita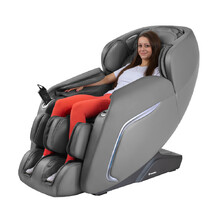 Več informacij
Masažni stol inSPORTline Marcelli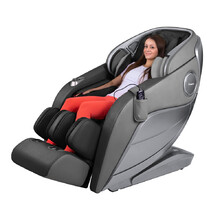 Več informacij
Masažni stol inSPORTline Numana je vključen v naslednjih kategorijah: