Masažni stol inSPORTline Cortela -
bež
A comfortable, powerful and easily adjustable masage chair that, in addition to a luxurious massage, will also give you aromatherapy and light therapy - in addition to music!
Priporočamo nakup
Opis
Parametri
Možnosti (5)
Video (1)
Masažni stol inSPORTline Cortela
Discover new dimensions of peace and quiet with the inSPORTline Cortela massage chair ! In addition to a completely relaxing full-body massage, you will also enjoy soothing aromatherapy , beautifying light therapy and magnetic foot massage! Thanks to the automatic detection of the body position, the chair adapts to each body part and thus fully engages a respectable set of massage heads and airbags. In addition to 6 preset programs, you also have 6 types of massage available for manual mode, including 3D massage , in which the massage rollers penetrate deeper into the muscles.

With 5 levels of speed and intensity settings , you will definitely find the ideal combination outside the offered programs. Then just save it as one of the 3 optional modes . You can also involve warming your back and calves for better muscle relaxation. In addition, when massaging the legs, it is possible to adjust the backrest in the range of 22 cm , so that even high people will not feel cramped in the chair.

In addition, the extremely useful Zero Space function ensures that you do not have to manipulate the chair at all. After adjusting to the horizontal position, it simply "slides" forward and there is no need to decide whether to move it away from the wall - 5 cm is enough! For absolute body relaxation, there is also the popular Zero Gravity function. And if you like to listen to your favorite music during the massage, just connect the built-in speakers to your mobile and that's it! With massage, heating, aromatherapy and blue light, you can indulge in the same luxury as in a professional salon!


Light therapy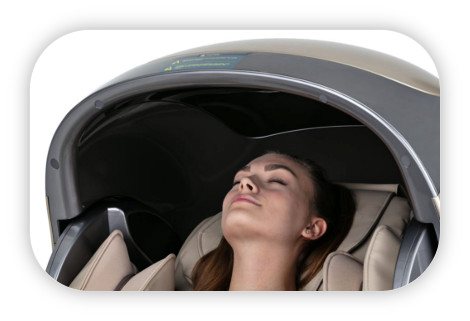 Thanks to the unique tilting roof lined with LED diodes, you can add light therapy to your home comfort! The blue light that radiates from the roof calms your skin and at the same time takes care of eliminating bacteria and suppressing inflammation . It is mainly used for acne problems or to soothe the skin after excessive sunbathing.


Aromatherapy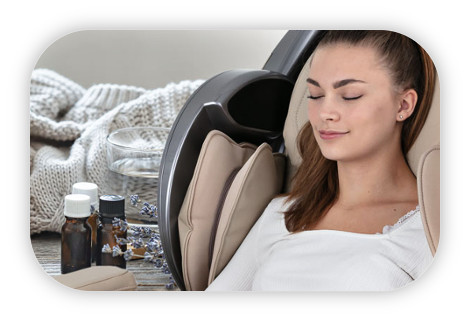 In addition, you can look forward to aromatherapy under the dome! The chair includes a special cartridge with fragrant oil , thanks to which you will immediately rise to other realms! Thanks to the rounded shape of the roof, the scent will completely surround you and you can fully immerse yourself in a calm and relaxing atmosphere.


Zero Space & Gravity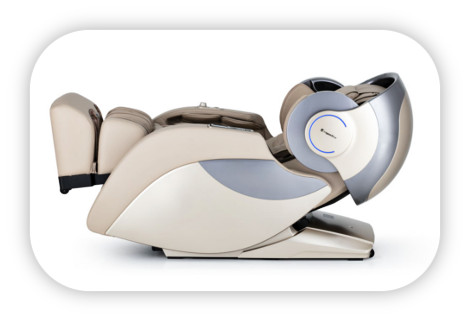 With the Zero Space program, you don't have to think about how much the chair tilts back during the massage - it doesn't tilt, it just slides forward and you don't have to manipulate it in any complicated way. Just place the chair at least 5 cm from the wall and that's it!
With the Zero Gravity function, you can switch to the so-called " weightlessness " position with a single button, where your weight is distributed so as to relieve your spine as much as possible from the influence of gravity. This will reduce the pressure exerted on the heart, expand the capacity of the lungs and support the blood circulation of the legs.


Magnetic massage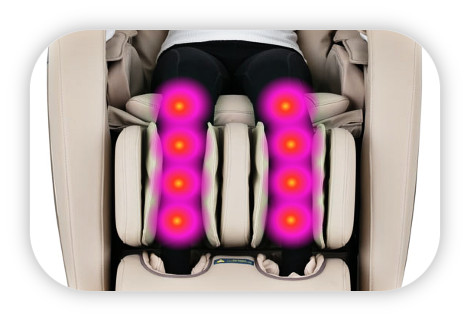 For the purposes of magnetic massage , the chair is equipped with a total of 8 permanent magnets in the calf area, which supply the body with the missing energy by stimulating the reflex points. Each generates a magnetic field of approximately 800 gauss.


Back and leg heating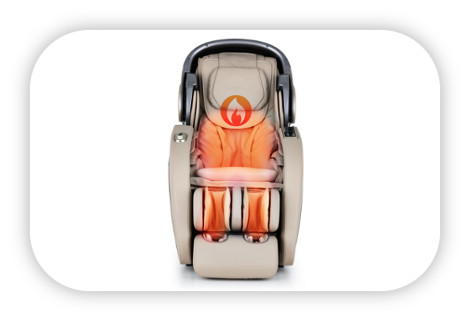 Heating takes place on the basis of long-wave infrared radiation, which uses carbon fiber as a source. The backrest and calf area are heated to a maximum of 40 ° C - 50 ° C , which is the optimal temperature for complete warming of the muscles and at the same time pain relief. The massage is then more effective and pleasant, in addition, the heating can be used to quickly restore heat in the event of a cold.


3D Bluetooth speakers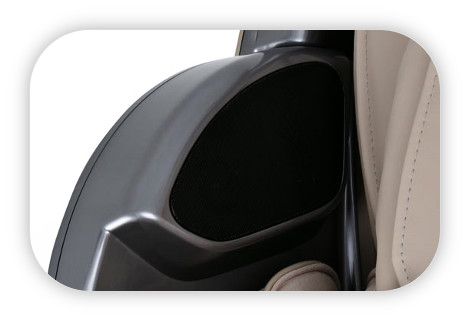 Listening to music is another interactive way of therapy, thanks to which you will gain inner peace and well-being. The combination of music and massage will charge you with an influx of new, positive energy. You can connect the chair to your mobile phone or other smart device and turn on your favorite music. Plus, you have a rechargeable USB slot so your phone never runs out of power.

Programs and features:
3D massage (movement of massage heads upwards, downwards, forwards and backwards)
6 types of massages (kneading, tapping, kneading and tapping at the same time, shiatsu massage, shoulder massage, 3D massage) with 

massage heads

6 preset massage programs (comprehensive full body massage, buttocks and hips massage, sleep support massage, neck and shoulder massage, back and waist massage, relaxing full body massage)
5 manual programs (focused, local, whole back area, upper back, lumbar area)
back and calf heating with carbon fibers (40 °C - 50 °C)
light therapy (blue light)
magnetic foot massage
5 levels of massage speed adjustment
5 levels of massage intensity
Pause function - pauses the current massage and allows you to move away from the chair
Zero Gravity feature
Zero Space feature
position / speed / mode setting for individual massages
memory for 3 custom programs
automatic seat detection

Technical description:
massage chair with the possibility of using aromatherapy, light therapy and magnetic foot therapy
anatomical curvature of the backrest and seat with a massage area of 95 cm
adjustment of the position of the footrest, including the possibility of adjusting its length in the range of 20 cm
backrest position adjustment
adjustable headrest - the pillow can be folded or unbuckled from the chair and thus regulate the intensity of the resistance
armrest adjustment
high-quality synthetic leather forms a firm and non-slip surface that resists friction and impact
back and leg heating (40-50 ° C)
74 massage airbags
Controls with LCD display
Bluetooth 3D speakers - play music directly from your phone
wheels for easy transport
side LCD lights to evoke the right mood
USB port for charging smart devices
power: 260 W
dimensions after assembly: d 150 cm x W 810 x H 141.5 cm
package dimensions: 3 boxes , 1x 150 x 83 x 97 cm / 132 kg, 1x 73 x 36 x 131 cm / 26 kg, 1x 58 x 54 x 58 cm / 30 kg
maximum chair length during massage: 220 cm
seat width: 52 cm
material: synthetic leather
load: 150 kg
weight: 168 kg
It is not a medical device - it is not intended for the muscle treatment and other diseases
Massage chair is not suitable for people with electronic implants (pacemaker), people suffering from osteoporosis or skin diseases and pregnant women
Masažni stol inSPORTline Cortela - Parametri izdelka
Material
Sintetično usnje
Število masažnih blazin
74 ks
Število masažnih ventilov
20 ks
Število prednastavljenih programov
U některých křesel lsi ze zvolit z již předem nastavených zabudovaných programů. Tyto programy jsou speciálně nastavené přímo pro aktuální potřeby uživatele. Z výběru je například program r
elaxační, ulevující, fitness, mírný či aktivní, ale tyto programy se můžou lišit křeslo od křesla.
6
Število masažnih stopenj
3
Število hitrosti masiranja
5
Zero Gravity
Tzv. poloha "beztíže", kde je vaše váha rozprostřena tak, aby maximálně ulevila vaší páteři od vlivu gravitace. Snížíte tak tlak vyvíjený na srdce, rozšíříte kapacitu plic a podpoříte krevní cirkulaci nohou.
da
Zero Space
Křeslo umístěné 5 cm od zdi se při nastavení polohy v leže sveze dopředu a není s ním třeba dále manipulovat.
da
Vyhřívaná podložka
Takováto křesla mají vyhřívání zajištěno infračerveným zářením, které poskytuje teplo a působí na uživatele jako termální terapie. Infračervené částice zlepšují prokrvení, což efektivně uvolňuje napětí ve svalech. Teplotu vyhřívání je možno si nastavit přesně podle potřeby.
da
Vyhřívání nohou
Vyhřívání nohou je zajištěno infračerveným zářením, které působí jako termální terapie. Infračervené částice zlepšují krevní oběh, což efektivně uvolňuje napětí ve svalech. K vyhřívání je použito karbonové vlákno, díky čemuž je možné teplotu regulovat.
da
Vyhřívání krku a ramen
ne
Maximalna teža (kg)
150 kg
Dimenzije
150 x 81 x 141,5
Računalniški spomin
Nekateri modeli masažnih stolov imajo možnost, da shranite prejšnje nastavitve stola, ali položaj zračne blazine, vrste masaže ali programe. Ko nastavitve shranite, lahko uživate v svoji najljubši masaži brez prilagajanja. Ta parameter določa, koliko možnosti prednastavitev lahko shranite v spomin.
3
USB priključek za MP3
Z USB vhodom za MP3, se lahko sprostite v masažnem stolu skupaj s poslušanjem vaših najljubših pesmi.
da
Masažni stol inSPORTline Cortela - možnosti -
vse na zalogi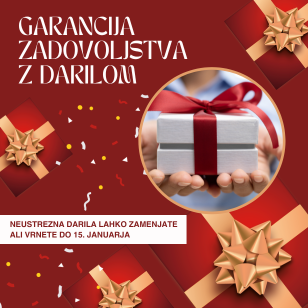 Masažni stol inSPORTline Cortela je vključen v naslednjih kategorijah: